Max2Play Image for ODROID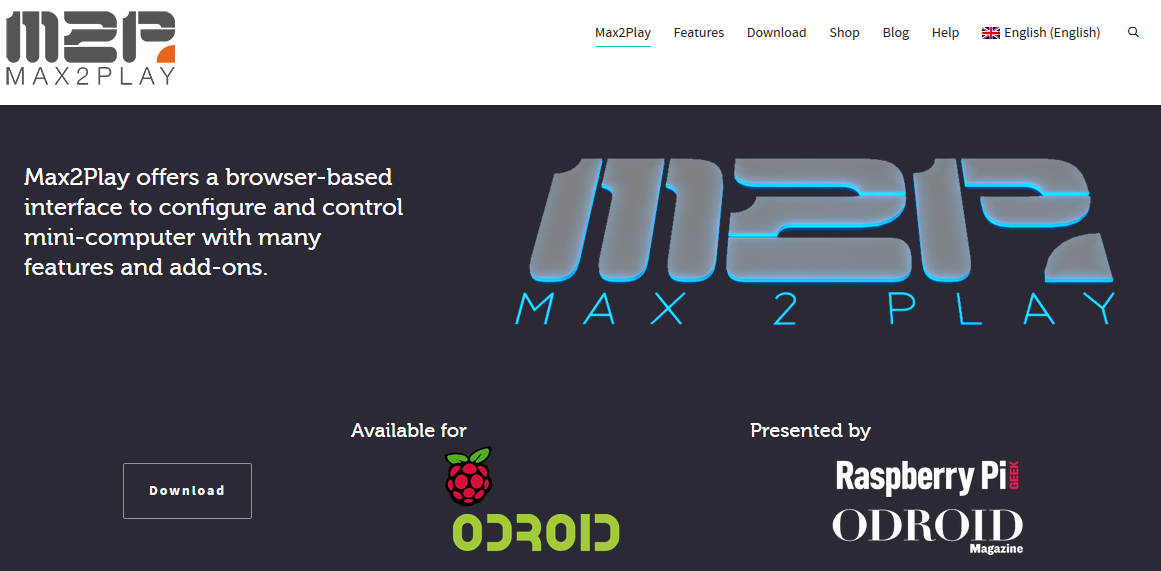 Server for Squeezebox / Receiver for Squeezebox and XBMC Video Feature
Preface: After Logitech discontinued the development of the Squeezebox and other compatible devices with the Squeezebox, we were looking long and hard for an alternative. Unfortunately, there seemed to be no small budget system that fulfilled the requirements of a multiroom audio system with easy controls, a sleep timer and high sound quality. Therefore, we decided to develop a player based not only on the ODROID U3 (high performance ARM-Board) but also Logitech's software for Squeezebox server with additional free components such as the software Squeezelite. Thanks to the high performance hardware of the ODROID-Boards our player is capable of running the XBMC (Media Centre) that supports 1080p High Definition videos. With that, you can use our player as a standalone Squeezebox server / player or as set-top box including Squeezbox features for your TV. Furthermore, the player features Airplay, allowing direct wireless streams from your iPhone / iPad. Due to the broad variety of features we named the device Max2Play.
Download
For those of you who look for a package, we customised XUbuntu 14.04 for your specific requirements. This image fits on a 8GB memory card (Class 10 required) and is compatible with ODROID U2/U3. If you are interested in the Image you can downlad it here (8GB SD card class 10 or eMMC module required). As an alternative you may purchase an SD card with a preset Image from our shop.
1. Hardware
1.1 ODROID U2/U3 - the high performance base
Information on pictures, HDMI, interfaces, power supply, WLAN, SD card and more:
Additional information on ODROID Hardkernel
2. Software
The latest image is based on Unbuntu 14.04 and was improved with additional components. Above all, the easy controls of the most important features via a web frontend also makes it attractive for non-programmers.
2.1 Logitech Media Server (Squeezeboxserver)
The Squeezebox server is designed to synchronise the individual player in the network and manages favourites, play lists, plugins and much more. You have to operate at least one of these servers within a network. Of course, you can install the server on a network storage such as a Synology Diskstation or on an already existing system of Squeezeboxes and servers with disabled Max2Play. Due to the broad variety of plugins for the Squeezebox Server, services such as Napster or Spotify work just as smoothly.
2.2 Squeezelite
This free player simulates a Squeezebox receiver that connects to the squeezbox server.
2.3 XBMC
The Media Centre (originally the Xbox Media Center) can play nearly everything. Since the XBMC is extendible with countless plugins, you can easily use online services like Youtube, TV streams and 1080p videos. These videos may be saved on a network storage and streamed to the player. Apple's Airplay works as well.
2.4 Shairport
Shairport enables wireless music streams from apple devices via Airplay. The ODROID player is selectable from the list of playback devices.
3. Administration
→ There is a web frontend easily accessable and usable to manage the key settings of the player:
→ WLAN, LAN konfiguration with network name and key.
→ Start / Stop / Autostart of services (Squeezeboxserver, Squeezelite, XBMC, Shairport)
→ administration of mounted drives (i.e. NFS)
4. Controlls
The controlls via smartphone works with the Squeezeboc as well as the XBMC. We recommend the following apps (iPhone + Android):
→ iPeng - elaborate and comfortable controll of Squeezebox player (choice of music, sync of other players, etc.)
→ XBMC Remote - controlls for XBMC-Players
Kind regards
your Max2Play Team