HiFiBerry AMP+ Bundle incl. Raspberry Pi and Max2Play
Attention! The HiFiBerry Amp+ was replaced by the new HiFiBerry AMP2 which is also available as a Max2Play Bundle in our Shop.
More information about the HiFiBerry AMP2.
The centerpiece of this of this bundle is the AMP+. The AMP+ by HiFiBerry, in cooperation with the Raspberry Pi 2 or 3, connects the highest sound quality with the smallest dimensions and premium-quality design. The ideal solution for audio applications in any system. The HiFiBerry Amp+ is a high performance, highly efficient class-d-digital amplifier for the Raspberry Pi 2B or 3B. Connected to the Raspberry, it is ready for use out of the box. Not only does it boost the audio qualities of the Pi immensely, it is also a high quality digital-analog-solution with a premium DAC built-in. No further DAC's or sound cards necessary. In connection with the Max2Play image, the device becomes a true allrounder. Preinstalled applications include Squeezebox-Server, XBMC/Kodi, multiple audioplayers and much more. The delivered power supply comes with an EU plug for electrical sockets
Here, you can find an overview of all the possible functions of Max2Play and information about the applications of them.
AMP+ overview:
GPIO-module for direct attachment onto the Raspberry Pi
Class-D digital amplifier, max. 25 W at 4 Ω
DA-conversion with 44,1/48 kHz sample rates
Integrated DAC
Fully digital audio processing
Powerful voltage controller, also supplies the Raspberry, just one power supply (12–18 V DC) required for both boards
Components
Raspberry Pi
Power Supply 12.0V / 6.0A
HiFiBerry AMP+
8GB MicroSD-Card with Max2Play
Case
| | | |
| --- | --- | --- |
| Raspberry Pi 3 | | Amp Power Supply 12V / 6A |
| | | |
| The Raspberry Pi 3 Model B creates a combination of speed, features and near-infinite potential for personal, enthusiast, and educational projects. Bluetooth and WiFi are onboard features and do not require additional hardware. | | For standard performance of this bundle compontents we suggest this amp power supply. The power supply has a EU-compatible plug. |
Case in Black, Matt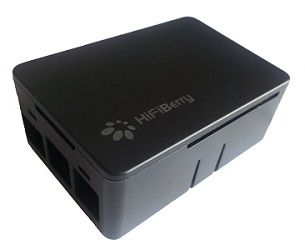 This case comes in black matt with a HiFiBerry brand for the Raspberry Pi 2 or 3. Simply stamp out the cover of the case to access the connectors of the prefered sound card.
Selection of the Max2Play License
With the purchase of this product you receive an additional Max2Play premium license (3 month term)*. You also have the possibility to purchase a 1-year, 2-year or 5-year license. The premium license offers further plugins for more features and extensive support.
*
Important!
There is no automatic extension of your license. You are free to renew it during or after the license period. Owners of the Max2Play Premium License get exclusive news about Max2Play, concerning new features and Plugins. The amount of Plugins is continuously growing.
Here you will find an overview of all the Max2Play Plugins