IQaudIO AMP+ (Pi-DigiAMP+)
IQaudIO Pi-DigiAMP+ for the Raspberry Pi with full HD audio file experience and audio capability with up to 2x35w stereo output to speakers. Spacers and screws are included.
A new version of the Pi-DigiAmp+ is available here.
The IQaudIO Pi-DAC+ is simply stacked on top of the Raspberry Pi A+/B+/2/3 using the GPIO pins (no soldering necessary). The special feature of the Pi-DigiAMP+ allows a full HD (24-bit/192kHz) audio file experience and audio capability with up to 2x35w stereo output to speakers. The IQaudIO Pi-DAC+ is the perfect solution for HiFi systems and can be used as the basis of a retro radio restoration, as a boom box, as audio player for car solutions and much more. The Pi-DigiAMP+ uses GPIO22 as software controlled mute system and also offers hardware volume control (ALSA). The IQaudIO Pi-DAC+ chipset (TAS5756m) delivers an outstanding performance from a single HAT board. The Linux driver support is already implemented to Raspbian Linux. Further pin-strips are already placed on the card to connect other hardware components.
Technical Details:
HAT compliant accessory; EEPROM, mounting holes
Texas Instruments TAS5756M for 2x35w of crystal clear amplification
Full-HD audio – up to 24-bit/192kHz playback
Signal-to-Noise-Ratio (SNR): 104 A-Wtd.
No soldering required to your Raspberry Pi
Integrated hardware volume control (via ALSA)
Powers the Raspberry Pi from the IQaudIO Pi-DigiAMP+ power input
Linux driver support already delivered within Raspbian
AMP can be enabled / disabled via Raspberry Pi's GPIO22
Advanced ESD protection
Uses the digital I2S audio signals to reduce CPU load over USB audio solutions
Fully built and tested Raspberry Pi accessory
Designed and manufactured in the UK
Components
IQaudIO Pi-DigiAMP+
4 Metal Spacers and 11 Screws
By purchasing this product, you receive an additional copy of the Max2Play Premium Testlicense (3-month period). You can find more information about the features of the premium license here.
IQaudIO support with Max2Play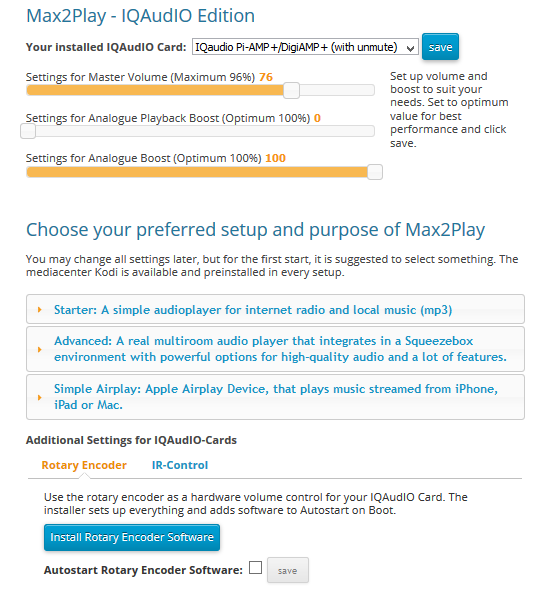 The Max2Play image supports exclusively the IQaudIO Pi-DigiAMP+ with additional features like:
Rotary encoder for hardware volume control and autostart option on boot
Volume Settings for Analogue Boost, Analogue Playback Boost and Master Volume for best performances
Choose between 3 setups for your preferred use of the audioplayer
IR-Control to set up a remote control for wireless operations
Improved automatic WiFi Configuration when enabling WPS in the WiFi / LAN tab
Plug & Play with Max2Play especially for IQaudIO Pi-DigiAMP+ sound cards
Max2Play offers a browser-based administration interface for Raspberry Pi on a Linux basis. With Max2Play, applications (Max2Play extensions) can be installed and administrated on a minicomputer without any Linux knowledge. The controls can be accessed via smartphone, tablet or computer, without connecting a mouse or keyboard to the minicomputer.
The Max2Play image has been optimized for the IQaudIO Pi-DigiAMP+ and can be set up easily. It ensures the best support of the IQaudIO Pi-DigiAMP+ and Raspberry Pi combination. The IQaudIO Pi-DigiAMP+ can also easily be installed with the help of a Max2Play extension. The extension installs all necessary kernel drivers. After activating the sound card, it can be used by the audio players (e.g. Squeezelite or MPD) for sound output. The volume settings are then automatically set to the optimal levels.
The walkthrough of the Max2Play image optimized for IQaudIO devices helps you to configure your device ready to use:

More Information

| | |
| --- | --- |
| delivery time | 2-3 Tage |
| Chipset | TAS5756m |
| KHz/ Bitrate | 44,1KHz/ 48 KHz/ 192KHz, 24 Bit |
| Signal-to-noise ratio | 104 dB |
| Output | Screw joint (2.0) |
| Output power (RMS) | 2 x 35W (@ 4 Ω) |
| Clock generator | Raspberry Pi |
| Additional connections | GPIO connector |
| dedicated Connection for infrared receiver | - |
| dedicated connection for rotary encoder | - |
| Hardware features | EEPROM, DAC included |
| ALSA controls for soundcard (driver) | Volume control, Analogue Boost, Analogue playback Boost |
| Max2Play software features | IQaudIO Plugin, Webcontrol for ALSA-driver |
| Power supply | 5.5/2.1mm DC jack/ screwe joint (12-19V) |
| PDF Data Manufacturer | PDF data sheet |