Allo Piano 2.1 Hi-Fi DAC with Subwoofer Out
Piano 2.1 HI-FI DAC for the Raspberry Pi Application field: High-End DAC with separate subwoofer out for analog connections between Raspberry Pi and amplifiers.
The Piano 2.1 Hi-Fi DAC is a powerful high-end DAC for the Raspberry Pi. It comes with four RCA connectors, so you can control your subwoofer separately. Hardware wise, the digital and analogue side is split with LDOs and the analogue side is fed using an extremely capable LDO LT3042 which has ultra-low noise and ultra-high PSRR. The Piano 2.1 is powered by the Raspberry Pi, meaning there is also no additional power supply required. The gold-plated RCA connectors are optimal for audio cable connections.
Technical Details:
Dedicated two No's of 384 kHz/32bit high-quality DAC PCM5142 for best sound quality
Available with different output connectors: 4 x RCA
DAC SNR is 112dB
DAC THD+N @ - 1dBFS are –93dB
Full Scale Output of DAC is 2.1Vrms
Dynamic Range of DAC is 112dB
Sampling Frequency ranges from 8 kHz to 384 kHz
Ultra-low-noise voltage regulators for optimal audio performance
Integrated EEPROM for automatic configuration (with write-protection)
Size (LWH): 58mm * 77.54mm * 23.8mm
Weight: 0.03kg
Components
Allo Piano 2.1 Hi-Fi DAC (Subwoofer Out)
By purchasing this product, you receive an additional copy of the Max2Play Premium Testlicense (3-month period). You can find more information about the features of the premium license here.
Plug & Play with Max2Play
Max2Play offers a browser-based administration interface for Raspberry Pi on a Linux basis. With Max2Play, applications (Max2Play extensions) can be installed and administrated on a minicomputer without any Linux knowledge. The controls can be accessed via smartphone, tablet or computer, without connecting a mouse or keyboard to the minicomputer. There is a special Allo Plugin available.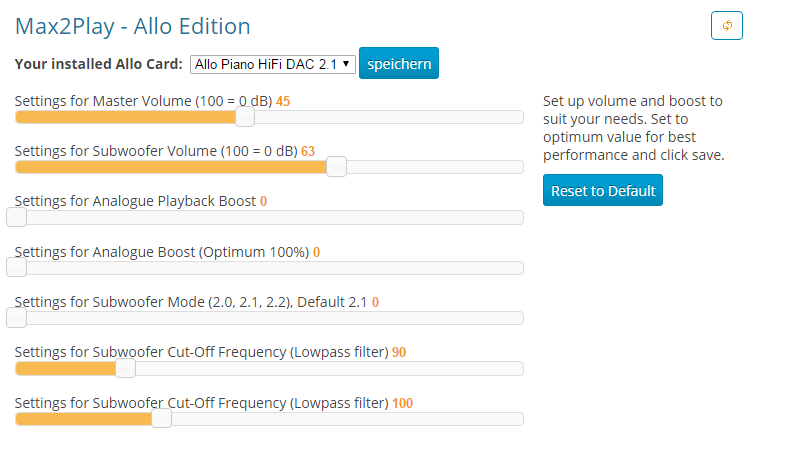 More Information

| | |
| --- | --- |
| delivery time | 2-3 Tage |
| Chipset | Burr-Brown PCM5142 |
| KHz/ Bitrate | 192kHz / 24bit |
| Signal-to-noise ratio | 112 dB |
| Output | RCA Stereo (2.1) |
| Output power (RMS) | - |
| Clock generator | Raspberry Pi or optional external Kali |
| Additional connections | Piano audio out connector (für Volt shield), GPIO connector |
| dedicated Connection for infrared receiver | - |
| dedicated connection for rotary encoder | - |
| Hardware features | 4 x RCA for 2.1 Stereo with Subwoofer Ouput, 4x 223J100 capacitors, 2x LTGSH 6D78 voltage regulators, 24C32F P59J01 EEPROM |
| ALSA controls for soundcard (driver) | Volume control, Lowpass filter, Subwoofer volume |
| Max2Play software features | Allo Plugin, Webcontrol for ALSA-driver |
| Power supply | Micro-USB of Raspberry (or Kali) |
| PDF Data Manufacturer | PDF data sheet |
We found other products you might like!