Attention: This article includes a lithium battery and is therefore only permitted for delivery within Germany!
The PiJuice extension header adds a fully functional, uninterruptable power supply battery to your Raspberry Pi! This is especially helpful in connection with our standalone features like the Access Point Setup Plugin, making it much simpler and more elegant to create mobile, independent projects with your Raspberry Pi.
Special Price
€48.99
Regular Price
€59.99
Attention: This article includes a lithium battery and is therefore only permitted for delivery within Germany!
Important: The PiJuice comes with a 1820 mAh battery providing 4-6 hours of continuous use. If you intend to use the PiJuice for bigger projects requiring constant 2.5A, it is recommended to use a bigger standard LiPo battery! Further Information:
The board comes with an onboard 1820 mAh "off the shelf" Lipo / LiIon battery which guarantees ~4/6 hours of up time. PiJuice is compatible with any single cell LiPo or LiIon battery so bigger (or even smaller) batteries can be chosen especially depending on CPU load and connected hardware which may cause significant variations to the overall maximum up time of the Raspberry Pi. That's why we have provided means to support bigger battery sizes like 5000 or 10,000 mAH+ to help your PiJuice last up to 24 hrs+.
The batteries can be replaced without downtime as long as an alternative power source is provided in the meantime. You could, for example use a battery bank whilst replacing either the onboard battery or one connected to the screw terminal (you shouldn't connect a battery on board and to screw terminal at same time though or you will fry your PiJuice). Using a standard PSU will of course work aswell. This configuration is in fact ideal for a UPS setup.
By purchasing this product, you receive an additional copy of the Max2Play Premium Testlicense (3-month period). You can find more information about the features of the premium license here.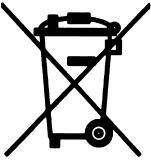 Attention: Batteries and rechargeable batteries must not be disposed of with household waste, but you are legally obliged to return used batteries and rechargeable batteries. Waste batteries may contain harmful substances which, if not properly stored or disposed of, could damage the environment or your health. But batteries also contain important raw materials such. As iron, zinc, manganese or nickel and can be recycled. You can either return the batteries to us after use or return them free of charge in the immediate vicinity (eg in stores or in municipal collection points or in our dispatch warehouse).
More Information

| | |
| --- | --- |
| delivery time | 2-3 Tage |