Product Description
Details
With this bundle, Max2Play can be used as a high-end audio solution with premium aluminium case and a 7" touch display. This bundle includes all necessary components for the assembly of the renowned Audiophonics RaspTouch. With the I-Sabre V4 DAC, an optimal sound experience can be achieved while the included power button ensures a secure and comfortable shutdown. Ideal for anybody who want to control the device via touch screen.
Detailed assembly instructions for the RaspTouch can be found here.
Components
Raspberry Pi
Power supply (6.7V / 2A or 6V / 3.5A / 25VA (linearly regulated))
I-Sabre V4 DAC
Case kit
Raspberry Pi 7" Touch-Display
Class 10 MicroSD card with preinstalled Max2Play Image
| | | |
| --- | --- | --- |
| Raspberry Pi 3 | | Raspberry Pi 3B+ |
| | | |
| The Raspberry Pi 3 Model B creates a combination of speed, features and near-infinite potential for personal, enthusiast, and educational projects. Bluetooth and WiFi are onboard features and do not require additional hardware. | | The Raspberry Pi 3 Modell B+ with improved WiFi- and Bluetooth modules. A powerful combination of performance and functionality, based on the newest Broadcom BCM2837B0, Cortex-A53 (ARMv8) 64-bit SoC with 1.4 GHz. |
| | | |
| --- | --- | --- |
| I-Sabre V4 DAC | | 7" Touch-Display |
| | | |
| The I-Sabre V4 is an audiophile DAC made by Audiophonics. With its elevated design, it allows easy access for all major ports from just one side. | | The Raspberry Pi 7 Zoll Touchdisplay is perfect to be used for a visualisation, e.g. for the playback screen of Jivelite. The connection to the Raspberry Pi is easy. |
RaspTouch Case Kit - black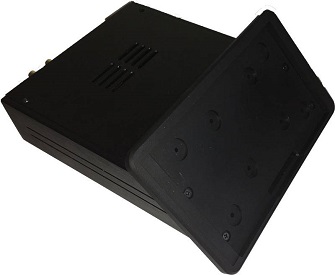 High quality, black aluminium case, as assembly kit, for a 7 inch display, the I-Sabre V3 (and V4) DAC and a Raspberry Pi. With Power Button and cables/adapters, making all ports easily accessible.
Power supply (6.7V / 2A)

Linearly regulated power supply (6V / 3.5A / 25VA)

High performance power supply for the I-Sabre V3 (and V4) DAC by Audiophonics.
The power supply has a EU-compatible plug.
High performance power supply with two coaxial connectors at 6V and 3.5A. Ideal for powering the I-Sabre V3 (and V4).
The power supply has a EU-compatible plug
Selection of the Max2Play License
With the purchase of this product you receive an additional Max2Play premium license (3 month term)*. You also have the possibility to purchase a 1-year, 2-year or 5-year license. The premium license offers further plugins for more features and extensive support.
*
Important!
There is no automatic extension of your license. You are free to renew it during or after the license period. Owners of the Max2Play Premium License get exclusive news about Max2Play, concerning new features and Plugins. The amount of Plugins is continuously growing.
Here you will find an overview of all the Max2Play Plugins
Plug & Play with Max2Play for Audiophonics sound cards
Max2Play offers a browser-based administration interface for Raspberry Pi on a Linux basis. With Max2Play, applications (Max2Play extensions) can be installed and administrated on a minicomputer without any Linux knowledge. The controls can be accessed via smartphone, tablet or computer, without connecting a mouse or keyboard to the minicomputer. Just put the delivered components together and you can profit from all of the Max2Play features for the I-Sabre V4.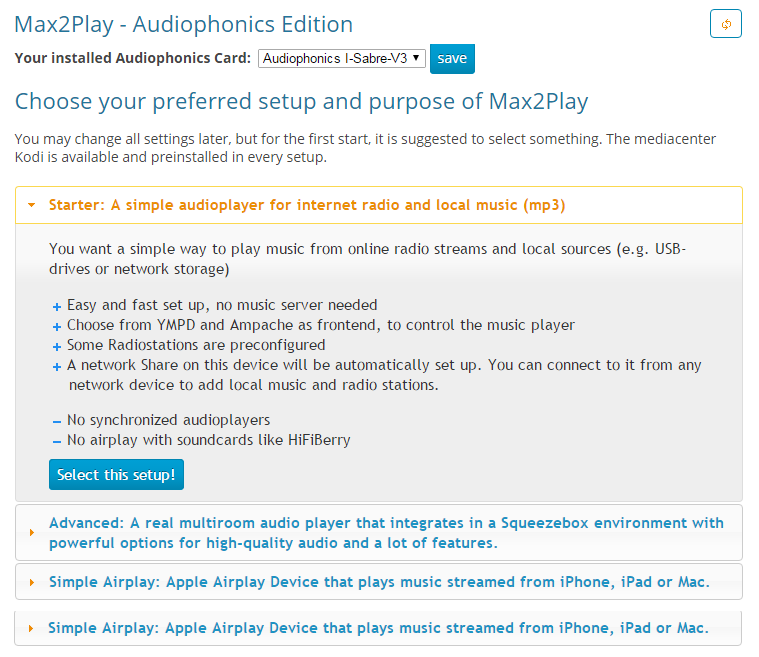 Additional Information
Reviews
Product Tags
You may also be interested in the following product(s) From: €264.99
To: €319.97
Incl. VAT
delivery time: 2-4 weeks
plus shipping fee From: €257.99
To: €389.96
Incl. VAT
delivery time: 10-14 work days
plus shipping fee