Audiophonics I-Sabre DAC ES9028Q2M
The I-Sabre DAC ES9028Q2M is the newest DAC by Audiophonics. Thanks to its advanced features, components and design, it offers a fascinating sound with an absolute minimum of interference. Important: The ES9028Q2M already works with our Audiophonics Plugin when selecting Sabre V3.
The Audiophonics I-Sabre DAC ES9028Q2M offers many exciting improvements in trying to meet the high expectations of the Raspberry Pi audio DIY community.
Like its predecessor, the I-Sabre produces a high-end sound. This model can achieve playback rates of up to 32bit/768kHz and has a chip that automatically analyses the audio signal and alters the DAC accordingly. Thus, the signal does need to be decoded which gets rid of possible interference between the two audio devices.
The new I-Sabre can be powered with a 5V+ MicroUSB cable and even run the Raspberry Pi as well. Alternatively, you can also use a power management system in order to also use the Audiophonics power button as well as Allo's Kali Reclocker.
The larger build of this DAC also comes with more room for details, like a small cooling unit. Further options for expansion are also available: There are connectors open for an OLED display to show the volume and the bitrate of the incoming audio signal as well as a volume knob, both of which are hardware implementations that do not require any software adjustment. The aforementioned power button can also be added with the help of an ATX Power Management module.
At a glance
Easy installation with Max2Play Audiophonics Plugin
Compatible with Raspberry Pi 2B and 3B
Supports extension hardware OLED display to automatically show volume, bit rate and input
Supports Power Button (ATX Power Management required)
Compatible with Allo Kali Reclocker
Powers the Raspberry Pi via GPIO to need only one power supply
Simple assembly (no soldering required)
Technical Details:
129 dB dynamic range
Gold-plated RCA connectors
Full-HD-Audio – up to 32 Bit/768 kHz playback possible
Distance of spacer holes (HAT format): 50mm x 58mm
2x NJM 2114 AOPs at 12V integrated
Fully HAT compliant
Dimensions (LBH): 90mm * 57mm * 33mm
Parts included
AUDIOPHONICS I-Sabre DAC ES9028Q2M
4 screws
4 M2.5 spacers
By purchasing this product, you receive an additional copy of the Max2Play Premium Testlicense (3-month period). You can find more information about the features of the premium license here.
How to implement the OLED display and volume knob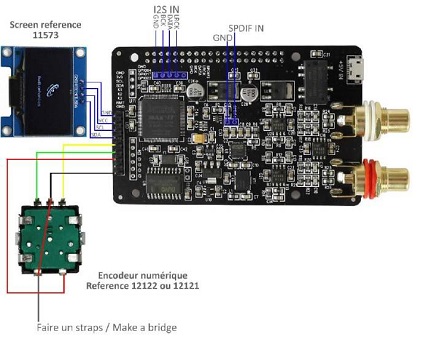 How to use the ATX Power Management Module and the Power Button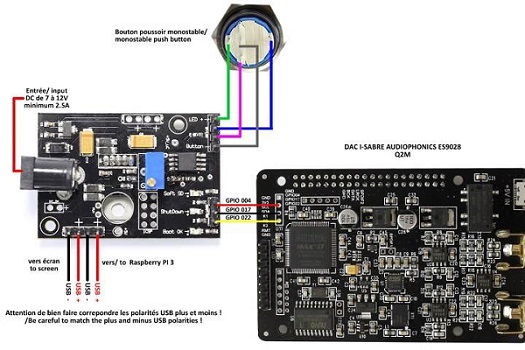 Setup with Kali Reclocker by Allo and the Power Management Module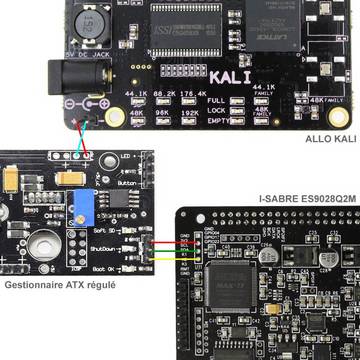 Plug & Play with Max2Play
Max2Play offers a browser-based administration interface for Raspberry Pi on a Linux basis. With Max2Play, applications (Max2Play extensions) can be installed and administrated on a minicomputer without any Linux knowledge. The controls can be accessed via smartphone, tablet or computer, without connecting a mouse or keyboard to the minicomputer. There is a special Audiophonics Plugin verfügbar.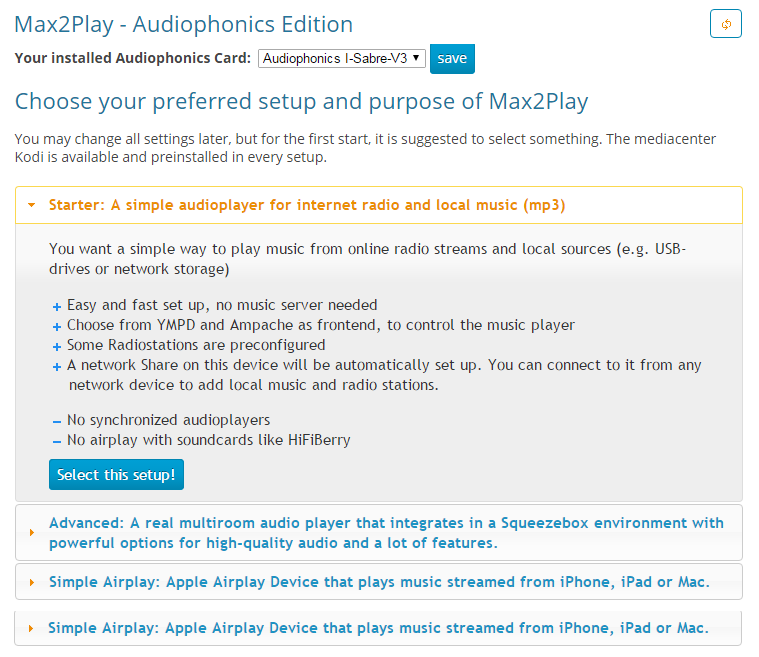 More Information

| | |
| --- | --- |
| delivery time | 2-3 Tage |
| Chipset | ES9028 Q2M |
| KHz/ Bitrate | 768kHz / 32bit |
| Signal-to-noise ratio | - |
| Output | RCA Stereo (2.0) |
| Output power (RMS) | - |
| Clock generator | Raspberry Pi or optional external Kali |
| Additional connections | Dedicated screen connector, dedicated power button connector, dedicated rotary encoder connector |
| dedicated Connection for infrared receiver | - |
| dedicated connection for rotary encoder | - |
| Hardware features | Gold-plated RCA connectors, supports power button, supports connection of OLED display and rotary encoder |
| ALSA controls for soundcard (driver) | - |
| Max2Play software features | Custom plugin for Audiophonics, installer for button |
| Power supply | Micro USB (+5V) or via Kali |
| PDF Data Manufacturer | PDF data sheet |