IQaudIO Pi-Digi+ Bundle with Raspberry Pi and Max2Play
Application: We recommend this bundle to all customers who want to connect their digital music to the main amplifier via optical and digital audio output.
With this bundle you will enjoy Max2Play with full HD sound via optical or digital audio output. The delivered components can easily be stuck together and need no soldering. The IQaudIO Digi+ can be powered by the Raspberry Pi and fits perfectly into the noble case. The Digi+ is optimal supported by the Max2Play image and offers a fast and easy installation of your preferred setup.
Components
Raspberry Pi 3
IQaudIO Pi-Digi+ with 4 metal spacers and 11 screws
Power Supply (with EU-compatible plug)
Case
MicroSD-Card with pre-installed Max2Play image
| | | |
| --- | --- | --- |
| Raspberry Pi 3 | | Raspberry Pi 3B+ |
| | | |
| The Raspberry Pi 3 Model B creates a combination of speed, features and near-infinite potential for personal, enthusiast, and educational projects. Bluetooth and WiFi are onboard features and do not require additional hardware. | | The Raspberry Pi 3 Modell B+ with improved WiFi- and Bluetooth modules. A powerful combination of performance and functionality, based on the newest Broadcom BCM2837B0, Cortex-A53 (ARMv8) 64-bit SoC with 1.4 GHz. |
Sound Card

Black Case



The IQaudIO Pi-Digi+ for the Raspberry Pi is based on the popular WM8804 digital transceiver. It has an optical and digital output for optimal connection with an amplifier.
The black case is held together with four metal bolts. The included rubber feet reduce slip and protect the surface of your furniture.
An assembly instruction can be found here.
Power Supply

iFi Audio Power Supply (2,5A)

For usage of the Raspberry Pi 3 we suggest the 2,5A power supply.
The power supply has a EU-compatible plug.
Audiophile SMPS with Active Noise Cancellation, ideal for all DACs and Digis with the Raspberry Pi.
Selection of the Max2Play License
With the purchase of this product you receive an additional Max2Play premium license (3 month term)*. You also have the possibility to purchase a 1-year, 2-year or 5-year license. The premium license offers further plugins for more features and extensive support.
*
Important!
There is no automatic extension of your license. You are free to renew it during or after the license period. Owners of the Max2Play Premium License get exclusive news about Max2Play, concerning new features and Plugins. The amount of Plugins is continuously growing.
Here you will find an overview of all the Max2Play Plugins
IQaudIO support with Max2Play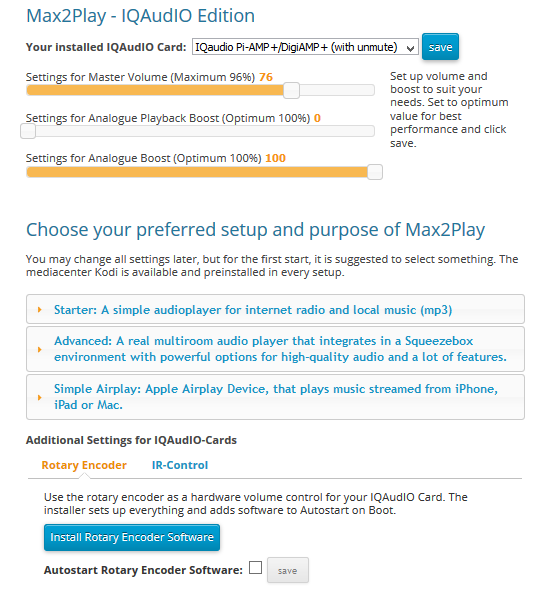 Plug & Play with Max2Play for IQaudIO sound cards
Max2Play offers a browser-based administration interface for Raspberry Pi on a Linux basis. With Max2Play, applications (Max2Play extensions) can be installed and administrated on a minicomputer without any Linux knowledge. The controls can be accessed via smartphone, tablet or computer, without connecting a mouse or keyboard to the minicomputer. Just put the delivered components together and you can profit from all of the Max2Play features for the IQaudIO Pi-Digi+.
The IQaudIO Pi-Digi+ can easily be installed with the help of a Max2Play extension. The extension installs all necessary kernel drivers. After activating the sound card, it can be used by the audio players (e.g. Squeezelite or MPD) for sound output. The volume settings are then automatically set to the optimal levels.
The walkthrough of the Max2Play image optimized for IQaudIO devices helps you to configure your device ready to use:

We found other products you might like!