Max2Play Premium License for HiFiBerry Multiroom
Free Max2Play Premium License for HiFiBerry Multiroom
What is Max2Play?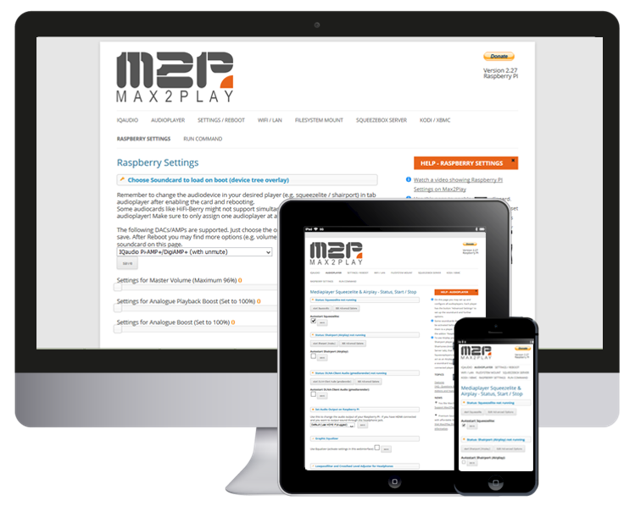 Managing your Raspberry Pi has never been easier. With the Max2Play operating system you can gain easy control of home-entertainment projects (e.g. 1-Click-Installer for Multiroom-Audio). You can comfortably configure all services in the clear web interface with only one click - without programming skills. Max2Play also automatically adapts to the size and the language settings of your web browser. Thus, the usage becomes a child's play even on the smartphone!
How does Max2Play Multiroom with HiFiBerry Work?
Here we will answer some basic questions so you can get started with your Multiroom system right away.
Getting Started: Head here for the first steps of your setup!
How many Raspberry Pi's do I need for a Multiroom system?
Since Max2Play can house both players and the central server on one device, synchronized playback between different rooms is already possible with just 2 Raspberry Pi's.
Which HiFiBerry sound card do I need for which multiroom zone?

When using passive speakers, a HiFiBerry AMP2 should be used. Or, if you have a smaller passive speaker you can use a MiniAmp.
If you want to use active speakers or the analogue input of your home stereo system, you can pick the version of the HiFiBerry DAC+ you prefer.
If you already have a great DAC you should select aHiFiBerry Digi+ to include it in your Multiroom system.
What can use to feed my music to Max2Play OS?
With our Multiroom solution you can use the following playback sources to play music:
AirPlay
Spotify, Google Music Premium
DLNA/UPNP
Network-Shares (NAS, QNAP)
USB-Storage (hard drives, thumb drives)
Bluetooth
Online Radio
How can I control playback of all my multiroom zones?
There are several ways to play music and synchronize playback on the different players in Max2Play Multiroom. Some of them are:
Jivelite Graphic Control Interface - This is the built-in solution for Max2Play, a graphic user interface that can be used via touchscreen or with any physical control device over any connected screen like keyboard, remote control or mouse. It allows access to all Multiroom players from the Raspberry Pi of your choice.
Smartphone and Tablet Apps - There are various apps for controlling or interacting with the Squeezebox system, both free and premium options on Android and iOS. Additionally, you can use apps for DLNA/UPNP as well as AirPlay for each zone.
Squeezebox web interface - Immediately after installing the Squeezebox Server, all features of each connected player can be controlled from its web interface via Max2Play.
Home automation - Thanks to the Squeezebox system's extensive support of CLI and HTTP commands, any home automation systems can be used to incorporate Max2Play in them.
How do the different elements of of Max2Play interact with each other
?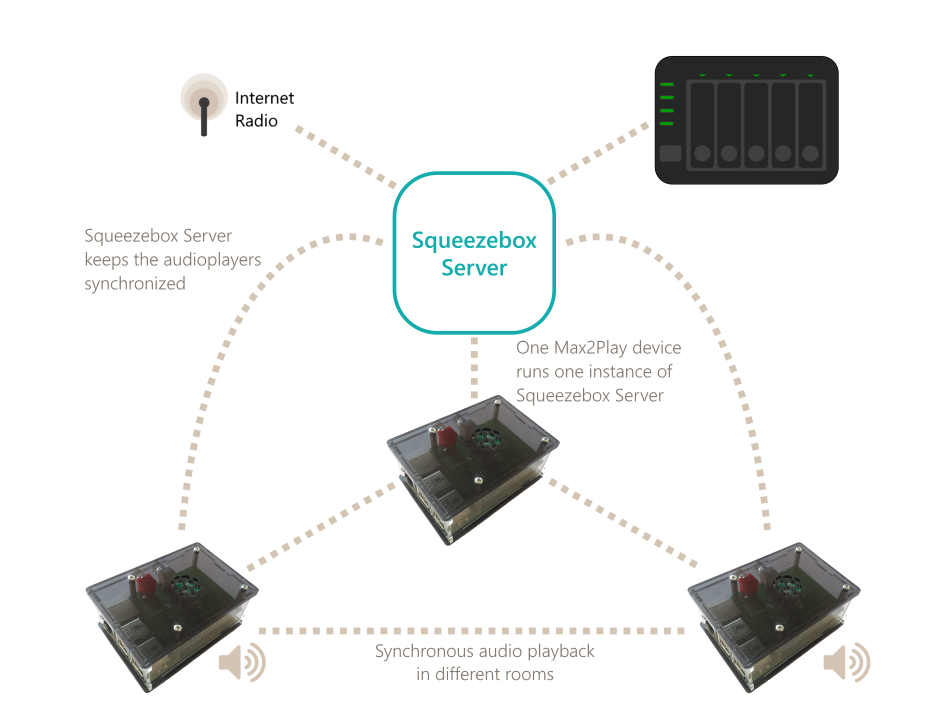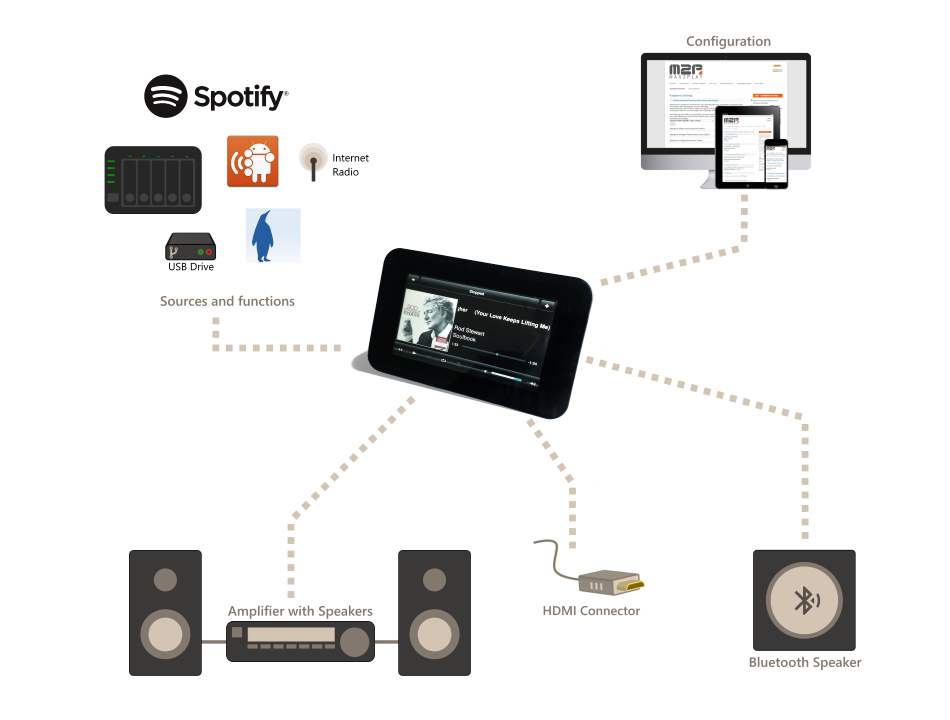 Access Over 15 Exclusive Premium Plugins
The amount of Max2Play Plugins is steadily growing. Today we already offer more than 40 Plugins for Max2Play, more than 15 of them are Premium Plugins, e.g.:
Bluetooth Plugin
Raspberry Pi Touchdisplay Setup
Multisqueeze
SD card protection
FHEM extension
Accesspoint extension
Raspberry PI settings for audio output devices & performance options for CPU
Overview of the Max2Play Plugins
Become Part of the Max2Play Community and Support the Further Development
The project is backed by the premium licenses. By buying a premium license, you support the development of new Plugins and the further development of already existing plugins.
Receive our Max2Play Premium Support
As Max2Play premium license owner, you receive our premium support. All your questions are answered here. There, you get the support you need. Your forum profile will also be marked with a premium license owner symbol. You are also very welcome to get in touch with us and share your ideas for new Plugins:
Updates und Beta Tests
As a Max2Play premium license owner, you try new Plugins in beta status before they are released and share your experience with us. Additionally, you get an email update every three months about all the new features.