Allo Piano 2.1 DAC Bundle with Subwoofer Out with Raspberry Pi and Max2Play
Application: Max2Play Piano 2.1 DAC bundle for all customers that want to play their music library through a digital-analog-converter on their stereo equipment and also be able to control their subwoofer separately.
This bundle offers an optimal use for Max2Play as a high-end audio solution. Just put the delivered components together and you can profit from all of the Max2Play features for the Piano 2.1 Hi-Fi DAC. We recommend the bundle to all customers who want to play their music library through a digital-analog-converter on their stereo equipment.
Allo Piano 2.1 HI-FI DAC
The Piano 2.1 Hi-Fi DAC is a powerful high-end DAC for the Raspberry Pi. It comes with four RCA connectors, so you can control your subwoofer separately. Hardware wise, the digital and analogue side is split with LDOs and the analogue side is fed using an extremely capable LDO LT3042 which has ultra-low noise and ultra-high PSRR. The Piano 2.1 is powered by the Raspberry Pi, meaning there is also no additional power supply required. The gold-plated RCA connectors are optimal for audio cable connections.
Components
Raspberry Pi 3 or 3B+
Power supply
Piano 2.1 Hi-Fi DAC (Subwoofer)
Case
Class 10 MicroSD card with preinstalled Max2Play Image
| | | |
| --- | --- | --- |
| Raspberry Pi 3 | | Raspberry Pi 3 B+ |
| | | |
| The Raspberry Pi 3 Model B creates a combination of speed, features and near-infinite potential for personal, enthusiast, and educational projects. Bluetooth and WiFi are onboard features and do not require additional hardware.. | | The Raspberry Pi 3 Modell B+ with improved WiFi- and Bluetooth modules. A powerful combination of performance and functionality, based on the newest Broadcom BCM2837B0, Cortex-A53 (ARMv8) 64-bit SoC with 1.4 GHz. |
| | | |
| --- | --- | --- |
| Black Case, Matt | | Raspberry Pi 3 Power Supply (2,5A) |
| | | |
| The Case for the Piano DAC and Raspberry Pi is a matt black case with HiFiBerry brand. Simply break out the cover of the case to access the connectors of the prefered sound card. | | For usage of the Raspberry Pi 3 we suggest the 2,5A power supply. |
Piano 2.1 Hi-Fi DAC (Subwoofer)

Piano 2.1 HI-FI DAC for the Raspberry Pi
High-End DAC for analog connections between Raspberry Pi and amplifiers with separate subwoofer out..
Max2Play License
With the purchase of this product you receive an additional Max2Play premium license (3 month term)*. You also have the possibility to purchase a 1-year, 2-year or 5-year license. The premium license offers further plugins for more features and extensive support.
*
Important!
There is no automatic extension of your license. You are free to renew it during or after the license period. Owners of the Max2Play Premium License get exclusive news about Max2Play, concerning new features and Plugins. The amount of Plugins is continuously growing.
Here you will find an overview of all the Max2Play Plugins
Plug & Play with Max2Play
Max2Play offers a browser-based administration interface for Raspberry Pi on a Linux basis. With Max2Play, applications (Max2Play extensions) can be installed and administrated on a minicomputer without any Linux knowledge. The controls can be accessed via smartphone, tablet or computer, without connecting a mouse or keyboard to the minicomputer. There is a special >Allo Plugin available.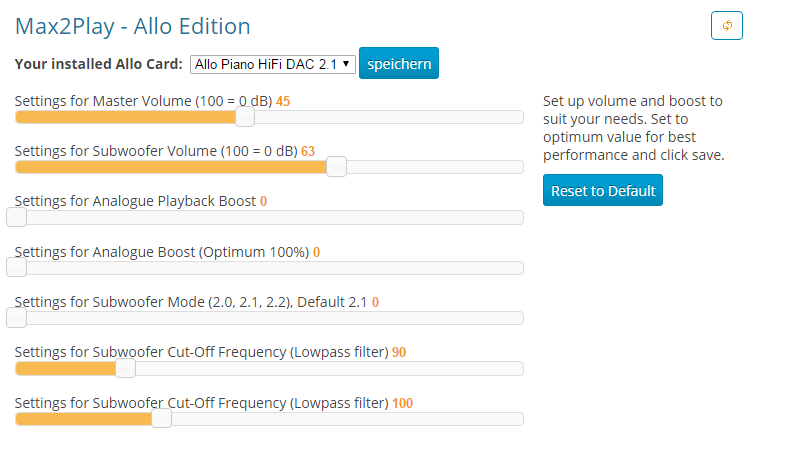 We found other products you might like!